Red Sun's Fire Rising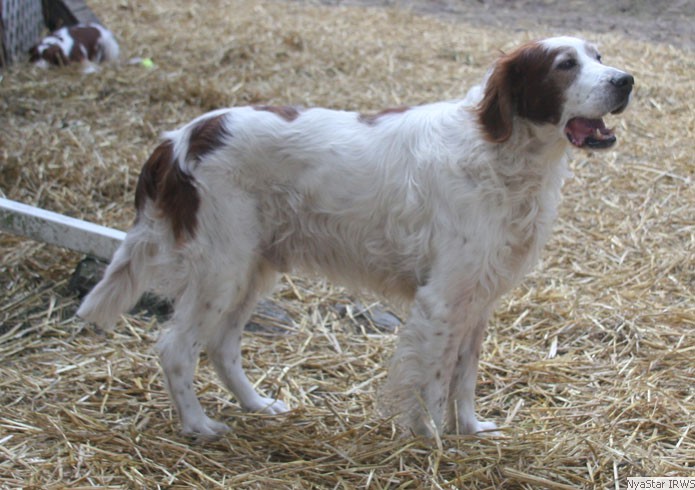 Breeder/ Owner: Mike Hageman

Co-owner: Kellyn Miller

Health Clearances

eyes: Normal
hips: OFA Excellent
elbows: OFA Normal
CLAD: carrier
PRA: Clear by DNA testing
vWD: Clear by DNA testing

AKC DNA Profiled

COI @ 10 generations: 23.86%

COI @ 6 generations: 6.65%
Biography
Red Sun's Fire Rising, was bred & is owned by Mike Hageman. He is co-owned by Kellyn Miller. He has been a long time hunting companion of Mike. When Kellyn saw him, she made a quick phone call to Mike, "Can I use him?" Mike replied with a sure, you know what you are doing. He is a stunning male with fantastic balance, a beautifully proportioned head, gorgeous thick coat, and heavy bone. These physical characteristics combined with his sweet easy going temperament & his incredible hunting ability made for a amazing addition to our program. We have been VERY happy with our Bobby kids.
Bobby is the sire of:
GCH NyaStar's Spark to a Flame, Ember: Winners Bitch/Best of Winners/Best Puppy/ Best in Sweeps at 2012 IRWSAA National, Best in Specialty Show Winner, Group Placing, Top 20 IRWS 2012/2013
GCH NyaStar's Bright Flame Burning, Star: Finished with 4 majors, Top 5 IRWS 2013
CH NyaStar's Secret Agent Man, McGoo: Winners Dog/ Best of Opposite 2013 IRWSAA National, Winner Dog/Best of Winner 2013 IRWSAA Regional, Top 30 IRWS 2013.
CH NyaStar's Dirty Little Secret, Karma: Top 20 IRWS 2013
Charlar Admiral Nimitz at Redwing

Charlar Prince Waldo

Taxus Scarlet Oak

Charlar Blossom-O-Moor

Hitides Sea Pearl

SH CH Spearpoint Sambooka Flambe

Glennessa Chalk'N Chestnut

Red Sun Rising

Lemuria Mythical Magni

Glennessa Cardinal Puff

Lemuria Vesta Firefly

Leia

RedWing King Ralph

Bramblebush Annisette