BISS CKC GCHX /AKC CH Shireoak Caniscaeli Windsong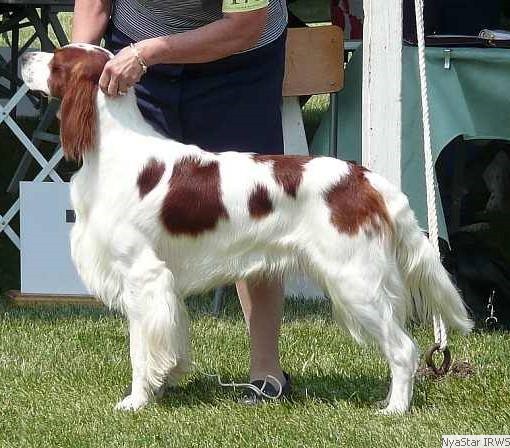 Owners: Gail Harrison, Leslie Harrison

Breeder: Kim Spelmer

Health Clearances

eyes: CERF Clear
hips: OFA Mild Unilateral
elbows: OFA Normal
CLAD: Clear by Pedigree
vWD: Clear by DNA Testing

COI @ 10 generations: 27.32%

COI @ 6 generations: 8.37%
Biography
Eamon is the first IRWS to win a Group in the United States the ONLY American & Canadian Specialty Winner and a WONDERFUL personality! Eamon has a stunning front, wonderful balance and is one of North America's Top IRWS of all time! We are privileged to have him in our program and can't wait to see what his offspring are like. His hips are going to be read for BVA this year and we cant wait to see what happens there!
Going to Canada to breed Kayleigh to Eamon, Kellyn got to meet Eamon. We can honestly say his outgoing sweet temperments is the largest factor making him worth bringing into any breeding program. Not only is he one of the most stunning Irish Red & White Setters in the world, he has never met a stanger and has a snuggling love-bug side that makes him a true shining star! Eamon is a winner not only in the ring but outside the ring as well!
From the 2013 Irish Red & White Setter Club of Canada Judge's critique: Harrison's  Ch Shireoak Caniscaeli Windsong CGN
Best in Specialty – MBISS Am/Can/Int Ch Shireoak Caniscaeli Windsong CGN (owner: Harrison breeder: Spelmer) This dog has always made the hairs stand up on the back of my neck whenever I have seen him in the show ring and on the move. It was hard to believe it was him as he belies his 7+ years. He is a dog of elegance that is hard to fault as each part of him flows seamlessly into the next; a stunning example of the breed. Beautiful, masculine head, soft setter expression, round, dark eye, ear leathers of the correct length and laying close to the head. Slightly crested neck of moderate length that flows into the best lay of shoulder – he excels in forehand construction – good length of upper arm and angulation that gives him good forechest. Correct oval bone, straight front, strong pasterns on the best of feet. Level topline that is held on the move with correct tailset. Strong in back, well ribbed up and short in couplings. Excellent rear angulation, well let down at hock with short, parallel, strong rear pasterns. Shown in beautiful coat and condition, pearly white with patches of red the colour of freshly opened chestnuts. Moves at one with his handler, effortless ground covering movement with front extension and rear drive. Tail held level with his back on the move.
-Susan Barry (Rustasha IRWS)
From the 2012 Irish Red & White Setter Club of Canada Judge's critique: Harrison's  Ch Shireoak Caniscaeli Windsong CGN
For me this lovely dog is the epitome of the breed standard. There is nothing either over or underdone. He is balanced skull to muzzle with just the right depth of stop and correct round dark eyes giving a kind and gentle expression.  His head is perfectly balanced to his body which in turn is balanced front to back with correct angulation. He is clean throated, has ample forechest and a good length of neck, smooth over the withers, well sprung ribs, level back, strong loin and correct tailset. He is strong and powerful without a hint of coarseness and moved like a train with great reach and drive. Lovely colour and markings complete the picture. One of the very best I have seen in my 30 years of involvement with this wonderful breed.
- Jackie Howatson (Vanders IRWS)
Caniscaeli Shades of Green

CKC CH Shannonlee Fire Finch


Vanders Special Vintage

Shannonlee Marbled Teal

Hawklawn Silver Sixpence


Innsegall Malery

Shannonlee Ptarmigan Of Hawklawn

CKC CH Rustasha Ruby Raindrop

SH CH Cormallen Strike A Light With Spyefire


SH CH Spearpoint Sambooka Flambe


Spearpoint Cherry Sparkler Of Cormallen


SH CH Spearpoint Amazing Grace of Rustasha

Spearpoint Noble Nightcap

Colona Corinna Of Spearpoint