AKC Champion
NyaStar's Be Still My Heart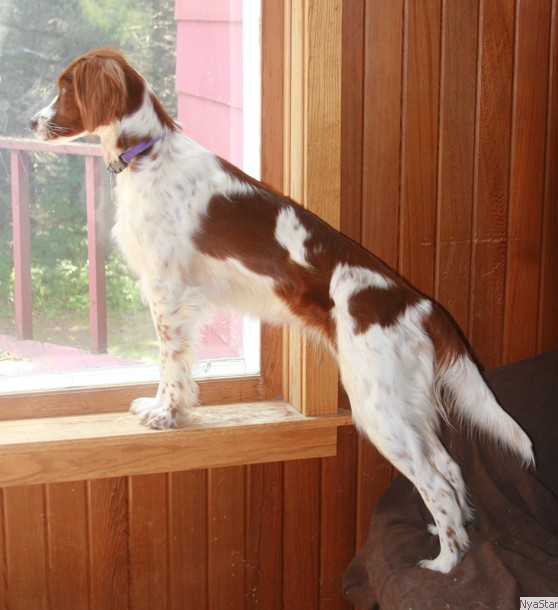 Owner: Tom Sexton & Zac Sexton

Breeder/Owners: Kellyn Miller, Shawn Hazen

Health Clearances

eyes: CERF Clear
Hips: OFA Good
Elbows: OFA Normal
CLAD: Clear by Parentage
vWD: Clear by Parentage

Born: March 14, 2010

COI @ 6 generations: 1.49%

COI @ 10 generations: 14.41%
Biography
Meg was our littlest girl, she was also the one we called the spit-fire and more then once the little devil. She was a darling little girl, who reminded us of her mother in almost every way. She loves to cuddle and was always happiest with HER people. Though where Meg shines the most is in the field, Meg has incredible bird drive and shows natural talent.
The moment Meg was born, I told Tom I had a small little girl with his name on her. He was hooked, he followed her with pride, and was thrilled to find out about his little "bird dog." He even told me she would be his first LAP dog!!
On May 8th, Meg was picked up, by her new daddy, Tom Sexton. She took her first meeting with dad in stride, after all, the bird was brought out to play too. After taking "Meg's bird" for a stroll, Meg decided okay I will come and love on you dad. Well not only did Meg meet daddy, but she also met her other dad, Tom's son, Zac, who brought his Münsterländer, Ariel. Ariel and Meg rode together on the long ride back to Montana in the back of the car. There the trip ends for Zac and Ariel, but will continue for Meg and Tom all the way to Wyoming. This will be Meg's new playground, where she will learn to hunt.
Meg finished with 15 points and 4 majors.
Click here for information on the Still Litter (Meg's litter)
AKC CH Carraig Colo Sceolang TDX, RN, NA, NAJ, CGC

CKC CH Aisling Cudo Is Ruairi Riogha


CKC CH Caniscaeli Two Is Bran Dil


Bobby's Girl


Craigrua Maeve


Ir. FT CH Craigrua Flame


Craigrua Enya


AKC/IRWSA/IABCA CH Rossmore Lightnin Strikes, CD, JH

Multi CH Rossmore Oisin


Multi CH/FT CH Sheebhin Espaig

Multi CH Dairerose Crystal Clear

Multi CH Rossmore Orlagh

Multi CH/FT CH Sheebhin Espaig

Multi CH Caispern Snow Marten At Ardbraccan
Photo Gallery