May the shamrocks fall softly baby girl,
AKC Champion
Sheebhin Orla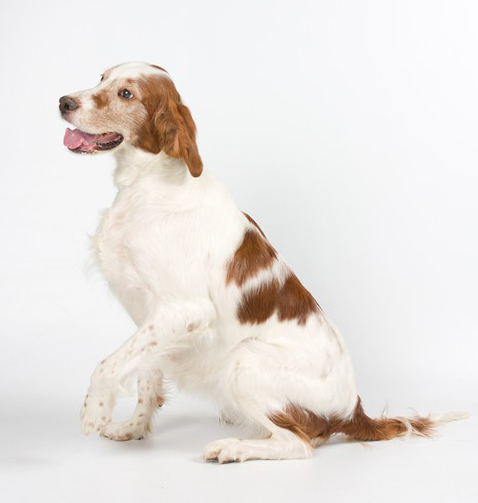 Owner: Susan Sargent

Co-Owner: Kellyn Miller

Breeder: Canon P. Doherty

Health Clearances

eyes: CERF Clear
hips: BVA 2:3
heart: OFA Normal by Cardiologist
CLAD: Clear by Pedigree
vWD: Clear by DNA Testing

AKC DNA Profiled

Born: December 3, 2002

Died: February 18, 2014

COI @ 10 generations: 10.13%

COI @ 6 generations: 1.27%
Biography
Sheebhin Orla (called Kerry) is a bitch that comes along once in a lifetime, and when we were offered her, we jumped at the chance. Kerry is from the Canon's last litter of Irish Red & White Setters, which to those who know the breed understand the value behind this.
Kerry went to a show in mid-December 2010 at which point she won WB 2 days, for 3 points. The judges commented that while she wasn't in the greatest condition, you could see what she could be. Kerry returned to the ring in 2011and obtained 11 more points and Kerry was the #18 Irish Red and White Setter. Her last point was received on 1/7/2012 making her the first AKC Champion bred by Canon Patrick Doherty. We are very thrilled with Kerry's accomplishment!!

We will be forever thankful to Maureen Daly & the Canon for the wonderful start in Kerry's puppyhood that led to this bitch, who survived adversity and now sleeps soundly in a bed with unlimited LOVE & of course food!
Kerry went to live in Utah in the spring of 2012 with the Sargent family... When Susan came to visit the pups for her and Kerry it was LOVE at first sight and so when Susan was headed home, Kerry went with her... Kerry lives with her daughter, Roxy, 3 kids (that drop food) and was Susan's heart dog until she passed away in February of 2014!!
Kerry's Story
When I look back on Kerry's story, I can't help but want to cry, but then I remember her story does have a happy ending.
Kerry was purchased from Terry O'Leary in Ireland on the 8th of July, 2010. The only photos seen were from December of 2009 at a dog show. We were waiting for her to come into season and would get her pregnant by Ballinrush Echo. Kerry didn't come into season until September of 2010. We were notified that Echo was unable to do the breeding, and that Dalriach Garryowen would be the new stud dog.

We expressed that we would send all the shipping $ upon verification of pregnancy. I received Kerry's IKC papers, but had to fax to Ireland a request for an export pedigree in order to register her. I was notified on October 15th that Kerry was pregnant. Funds for shipping were wired on October 20, 2010. I did not hear from Terry again until the 29th when he forwarded me the details of her shipping, nothing more, after numerous e-mails and a phone call from me trying to find out what was going on. We received Kerry on November 3, 2010 at 11:45 pm. When we got her out of the crate, we were horrified at her weight, but delighted at her outstanding temperament. We stayed at a hotel in the Olympia, WA area that night and took Kerry to the Steamboat Animal Hospital the very next morning (click here to see vet reports).
The weekend following Kerry's arrival, she went with Kellyn to the Oregon Trail Caviler King Charles Spaniel Club health clinic, at which point, numerous people commented on her lack of condition. While her eyes were CERF clear, there was retinal scaring that was from worms, according to the CERF vet.
We had Kerry for 2 weeks before she was due to give birth to pups, because of Kerry's condition, we knew there would be a high likelihood of an issue, so we went to long time breeder and now co-breeder, Jill Holt's house. On the Saturday after we got to Jill's Shawn noticed a greenish brown discharge coming out of Kerry. The whole household dropped everything and off we went to the vet's office. We stopped at Jill's regular vet, Butterfield Animal Hospital (Temecula, CA), where the vet said she was not equipped to handle a dog in Kerry's condition and would send us to California Veterinary Specialist (CVS). We arrived at CVS in early morning. We were panic stricken as the vet said with so little body fat, they were unsure of the condition Kerry would come out in. We went from 2 or 3 pups at Steamboat, to only 1 puppy left upon C-section at CVS. Kerry's uterus was full of the greenish-brown slimy goo that was proposed to be reabsorbed puppies, telling us it was more than just stress from travel that caused the loss. We picked up Kerry & the one little girl at about 3 o'clock in the morning on Sunday. We brought them both home. Kerry refused to have anything to do with her new puppy, and was not bringing in enough milk even with oxytocin shots. Our other bitch, Arin, was enamored on sight and wanted this bundle of joy. So the puppy continued to be tube/bottle fed, until such point that Arin brought in milk for her (less than 8 hours). (click here to see vet reports from CVS) At approx 7 pm, the little puppy started making a wheezing noise, at which point we again rushed to CVS. They said she had aspirated (possibly due to underdevelopment as she had not nursed or been fed for 30 minutes prior to aspiration). They kept our only little girl overnight. At 5 AM we received a phone call stating that they were conducting CPR & that her body temperature had dropped and was not coming up, and she was in distress. We were asked for permission to let her go.....with tears in our eyes, we asked her chances and we were told they weren't even there anymore, and so we let our littlest angel (3.5 oz) go...............REST IN PEACE LITTLE ONE, you were LOVED!!!
Kerry's recovery after the c-section was nothing shy of amazing. With unlimited food and moderated exercise for the 2 weeks after the c-section followed by the 4 weeks of running loose on 5 acres with her new "sisters", Kerry started to regain some of her condition.
FT CH Craigrua Aran

Int FT CH Rushfield Rascal

CH Rushfield Smudge

Rushfield Kerry

FT CH Craigrua Susan

Craigrua Wag

Craigrua Cleo

Sheebhin Lad

Sheebhin Cathal

Rathbeg Toni

Ruemadra Kittiwake

Rockfield Bran

Dogtanian Rascal