Best in Show (IABCA), AKC Champion,
IABCA Champion
Bluemoon's Return to Me
Canine Good Citizen, Service Animal Registry of America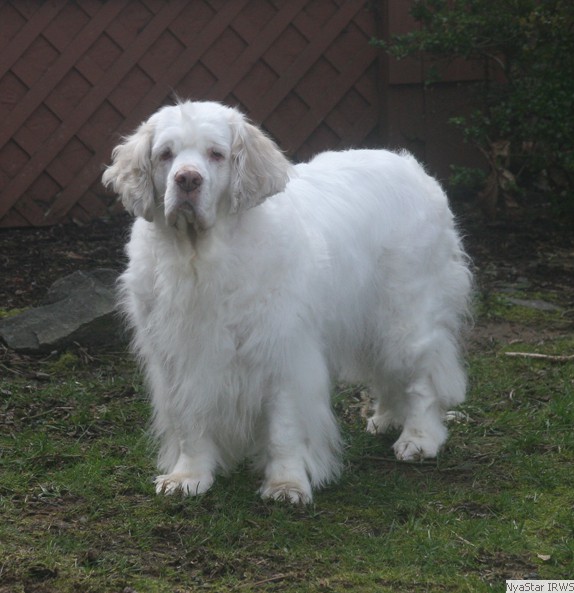 Owners: Kellyn Miller

Health Clearances

eyes: disticititis, ectropion, punctate cataracts
hips: OFA Moderate
elbows: OFA Normal

Biography
Ella came to Kellyn in December of 2004 at the age of 7 months. Ella is a wonderful girl and is everything one could want in a show dog with attitude and flair to spare. She finished at 10 months of age with 3 majors. Ella now enjoys teaching Junior handlers what the ring is all about at rare breed shows and has a number of "wins" with these young Juniors. At rare breed shows that allow spay/neutered dogs to compete, Ella showed her Junior handler to multiple Best in Shows.
Ella was spayed in 2007 since we felt that it would be irresponsible to breed her with her health issues. As a service dog Ella has been on many flights and to a number of restaurants as well as attending school with Kellyn. Amongst Ella's flights was a trip to Argentina to get her surrogate baby, Arin. During this trip Arin's breeder were struck with the fatal disease of Clumber loving and were almost as sad to see her go as they were to see us and Arin go.
In 2013 Ella went to the Clumber Spaniel Club of America National specialty and won her 7-10 year veteran class all 3 possible times and was Best of Opposite in Veteran Sweeps!! Not long after the national she went down with IVD. It was heartbreaking and scary as she couldnt walk and was in pain. When we went to the vet, the opinion was she wouldnt get better. Well never one to give up on our dogs, Ella had prolo therapy where the discs had ruptured as well as acupuncture. Very happy to say Ella did great until October of 2015. On October 12, 2015 Ella lost the fight with cancer and will forever be missed.