AKC Grand Champion, IRWSA Champion, International Champion, Best Puppy in Show
Rossmore Lightnin Strikes
Junior Hunter, Companion Dog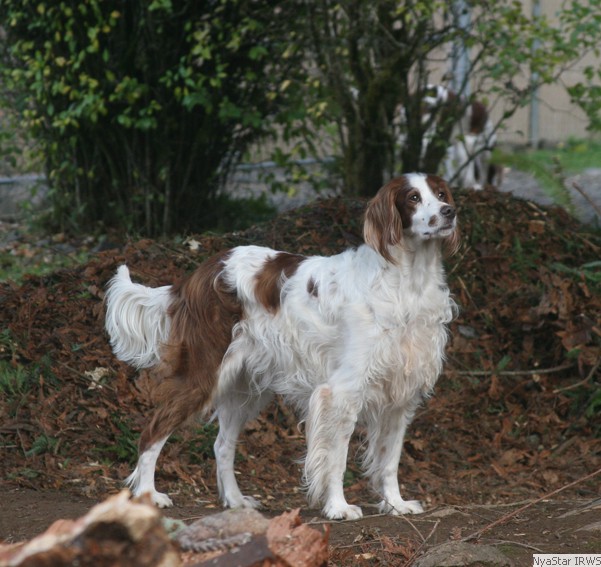 Owners: Shawn Hazen & Kellyn Miller

Health Clearances

click here to view Arin's OFA page

CHIC #: 66351

Eyes: CERF Clear 08, 09, 10, 11
PPC affected 2014
Hips: OFA Excellent
Elbows: OFA Normal
Patellas: OFA Normal
Shoulders: OFA Normal
Heart: OFA Normal by Cardiologist
Thyroid: OFA Normal
CLAD: Clear by Optigen DNA Testing
PRA: Clear by Optigen DNA Testing
vWD: Clear by AHT DNA Testing


Born: April 9, 2007

COI @ 6 generations: 17.96%

COI @ 10 generations: 34.33%
Biography
Originally named Airnie (air-nee) we renamed her Arin so that Shawn would not get laughed at in the field when he couldn't pronounce his own dogs name. Arin is an import from Rossmore Kennels' in Argentina, were we got the opportunity to spend a week in the presence of numerous Irish Red and White Setters on a farm. In addition to getting the full setter experience Shawn also got the opportunity to hunt over both Arin's Grand Father and Father. The dogs did an excellent job of working the field and pointing birds, unfortunately Shawn displayed his inability to hit the little rockets Argentina knows as quail. Arin has quickly picked up hunting allowing Shawn to redeem himself against the American version of Quail her first year in the field.

At two years of age our little Setter princess passed all of her health tests with flying colors. At 21¼ inches tall Arin is on the small side for the breed. She possesses a wonderful rear, nice tight feet, and a wonderfully expressive and tight dark eye. These traits make her a true pleasure to work in the field and with her innate intelligence she is rapidly become one of the best field dogs Shawn has seen. This makes her a true asset to our breeding program as we strive to maintain the hunting integrity of this storied breed. Arin is an American Kennel Club Champion, and won a Best Puppy In Show at a rare breed show on her first ring appearance. Being shown by Marina Ramirez (age 10) Arin finished her International Championship.
Arin is the 4th Irish Red & White Setter to obtain a Grand-Championship, and the 2nd bitch.
In the field Arin takes after her grandfather, Dual Champion Sheebhin Espaig, displaying a strong natural setting instinct. Combining speed, agility, and stamina, Arin is a natural beauty in the field. These features combined with her excellent health means she will be Shawn's hunting partner and a great companion for many years to come. Arin has a Junior Hunting title, which was accomplished in one weekend with 4 trials. Arin also has her Companion Dog title in Obedience, making her the second IRWS to earn the IRWSA trinity award (first ever with CH, CD, JH), and the first female and the only Trinity award winner with a Grand Championship.
Arin has retired from breeding and is enjoying life as the couch potato. She has been spayed and is retired to her life as the bed pig at Shawn's house..
Arin is the mother of 5 AKC Champions, and has other AKC pointed/started offspring.
Multi CH Rossmore Oisin

Multi CH/FT CH Sheebhin Espaig


IR/UK SH CH Fieldtop Latest Edition At Shushana


Sheebhin Jenny


Multi CH Dairerose Crystal Clear


Dairerose Atlantic Romancer


Lucy Lou


Multi CH Rossmore Orlagh

Multi CH/FT CH Sheebhin Espaig


IR/UK SH CH Fieldtop Latest Edition At Shushana

Sheebhin Jenny

IR SH CH/ Multi CH Caispern Snow Marten At Ardbraccan

SH CH Drumgarron Jewelled Crown Of Castlefenny

Ir. CH Ardbraccan Dailtin Dilis

Photo Gallery