Best in Show (Rare Breed), AKC Champion,
AKC Bronze Grand Champion
RedBranch Radiant Sunset at NyaStar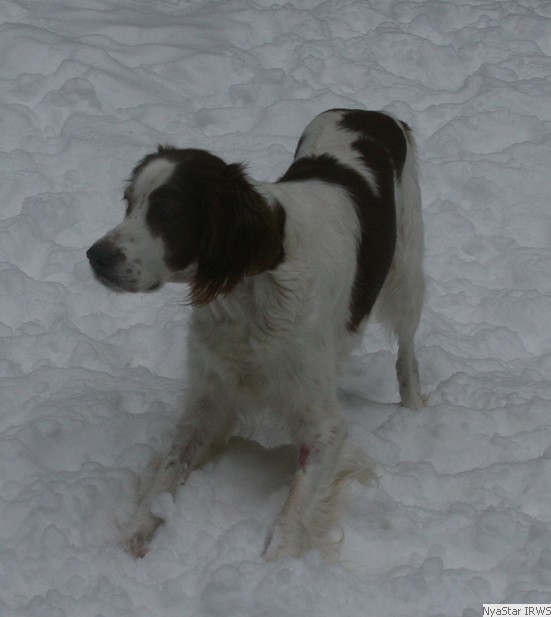 Owners: Kellyn Miller, Shawn Hazen & Jill Holt

Health Clearances

click here to view Aoife's OFA page

eyes: CERF Clear
hips: OFA Excellent
elbows: OFA Normal
patellas: OFA Normal
shoulders: OFA Normal
heart: OFA Normal by Cardiologist
thyroid: MSU Normal- May 2014
CLAD: Clear by Optigen DNA Testing
PRA: Clear by Optigen DNA Testing
vWD: Clear by AHT DNA Testing

AKC DNA Profiled

Born: April 29, 2008

COI @ 6 generations: 0.86%

COI @ 10 generations: 14.81%
Biography
When attempting to determine the best name for Aoife (Ee-fa) we had to consider what traits we wanted a puppy that was destined to be Kellyn's show buddy. We spent time researching the ancient Gaelic names of Irish mythology and came across the name Aoife which means beautiful, radiant, joyful one. After much debating, bickering, and gnashing of teeth, we almost instantly knew that was the name our new puppy had to have. We wanted the name Aoife to be representative of her show name so she became our RedBranch Radiant Sunset at Nya Star and ever since then she has radiated great joyfulness throughout our household.
Being at the top of the standard for height in Irish Red and White Setter Females (24inches), Aoife is truly our big bundle of joy. She carries this joyfulness into the ring with her where she can commonly be seen leaping for the cookie in moms hand. In 2009 when the Irish Red and White Setters became recognized by AKC Aoife hit the ring running and leaping, becoming the first IRWS on the West Coast to finish their Champion title, and the seventh champion of the breed. In her race to finishing her title Aoife also set several other records including being the first IRWS to win breed from the 6-9 month puppy class. Being the glory hound she is, Aoife also managed to grab her fifteen minutes of fame in a feature from Animal Planet on the 2009 Rose City Classic. Aoife was 2010's #1 Irish Red & White Setter ALL-SYSTEMS!! Aoife was only shown selectively as she is always owner handled. Aoife is also pointed in Canada. Aoife finished 2010 as a top 5 Irish Red & White Setter in Canada as well as being #1 in the United States! Aoife in 2011 was shown very sparingly to finished bronze grand championship (100 points) and was a top 10 IRWS in spite of having a lot of time off or her litter of 11 and a being out with a broken toe! Aoife has now been retired from the ring and will only be brought out for special occasions. AND Special it was... for the 2012 National, Aoife was Best of Opposite and her daughter, Ember, Best of Winners!!!
Aoife is the mother of 2 Champions and 2 Grand Champion and 3 other AKC pointed offspring with a few more coming up!
Seargent Sunset do Porto Rio

Multi. Ch. Glennessa Benefactor

Ir/UK. Sh.Ch. Bellavanti Beachcomber

Glennessa Melonie

Multi. Ch. Glennessa Blessings

Sheebhin Lad

Glennessa Post Haste

Redbranch Aibreann

CKC CH Machias Tequilla Sunrise

CKC CH/ARBA CH Dalriach Audicity

Vanders Victorian Legacy

Rossmore Aran

Multi CH/ FT CH Sheebhin Espaig

Dairerose Crystal Clear